Ocean carousel horse rides are very popular amusement rides. Different from the traditional carousel, ocean merry go round seats are marine life, such as seahorses, dolphins, whales, sea lions, shells and so on. Tourists can sit on these sea animals and experience the fun of sea roundabout carousel ride. It is suitable for visitors of all ages, especially attractive to the little ones. Dinis produces a 16 seats ocean carrousel. Our ocean carousel merry go round rides have many advantages and many beautiful decorations. We can also help you customize your country or region's unique patterns or decorations. Our merry-go-round can bring you more visitors and income. Dinis has strong strength and has decades of production and export experience. You don't have to worry about the quality of our sea carrousel, you can buy with confidence.
16-Seater Luxury Ocean Carousel Horse Rides for Sale
The chassis of our 16-seater ocean merry-go-round is 7m in diameter and 5.2m high. Its matching voltage is 380V. The Ocean carousel has a beautiful appearance and bright colors. During operation, it will make visitors feel as if they are in an ocean fairy tale world. We provide you with a control cabinet. The control cabinet controls the running time as well as the speed. The speed limit of Sea merry go round is 0.8m/s. But you can adjust the running time each time according to the number of visitors to your business place. When there are few tourists, the running time can be longer each time. In this way, the tourist experience will be better. When there are many tourists, the running time can be shorter each time. This way, you will earn more. Dinis can provide you with ocean carousel horse rides that satisfy you. Welcome your purchase.
Advantages of Dinis Ocean Merry Go Round
Ocean carousel horse rides are mainly made of steel and fiberglass. The amusement facilities made of fiberglass are bright in color, and the color can last for a long time. Therefore, our ocean carousels are colorfast and durable enough to withstand the elements.
Dinis sea roundabout carousel ride is manufactured according to strict design and construction standards. So it has higher quality and higher safety factor. But if your child is too young to ride safely by himself, you can ride with your children.
Sea carrousel has stereo and colorful lights. So while running, you can play cheerful music. Passengers are also happier and more relaxed. At night or in a dark environment, the lights will make ocean merry-go-round more beautiful. The colorful lights sparkle at night, which is very beautiful. So visitors will have a good visual enjoyment. Music and lights can make visitors feel the fun of ocean carousel.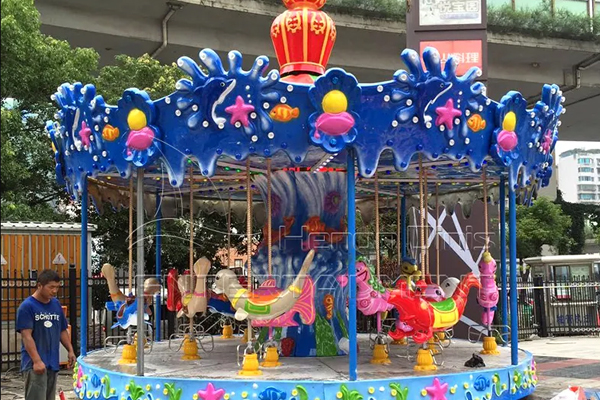 Custom Ocean Carousel Horse Rides Decorations
Our ocean roundabout carousel ride has beautiful patterns and decorations. There are many decorative patterns on the center column part and the inner side of the top of the carousel. Most of these patterns are related to the ocean, such as small fish, starfish, shells, mermaids, etc. If you want to replace some of the patterns on the inside of the top, we can accommodate your request. These patterns can be replaced with the characteristic scenery, food, plants or logos of your country or region. And if you want your ocean merry go round business to be uninterrupted. We can help you add a fence around the merry-go-round to keep people out of trouble. So you can change patterns and add fencing if your budget allows. Dinis will provide you with a satisfactory plan and sea roundabout carousel ride.
What Can Our Ocean Carousel Bring to You?
First, save costs. Dinis is the manufacturer. So we are specialized in research, design, production and sale of various amusement rides. We are not a middleman, so the price of ocean carousel horse rides will be more reasonable. Therefore, if you purchase our facilities, your cost will be less.

Second, good after-sales service. We will provide you with detailed installation instructions. The warranty period of ocean merry go round is one year. But even after the warranty period, we will always provide you with technical support. You can contact us anytime if you have any questions.

Third, more tourists and revenue. Our ocean merry-go-round is delicate and beautiful. With music and lights, carrousel will attract more tourists for you. The more tourists come to experience, your income will increase significantly.
Dinis is one of the largest manufacturers of amusement equipment in Henan Province, China. So our products are of high quality and reasonable price. We have rich experience in research, production and sale. We are professional. The ocean carousel horse rides produced in our factory are sold all over the world every year. Customers will give us feedback after receiving the rides. Our sea roundabout carousel ride is very popular with tourists and customers. After the factory produces the ocean merry-go-round, it will be delivered to you in time. After you receive the goods, if you have any questions, you can contact us at any time.
Ocean carousel horse rides in our factory are essential rides in theme parks and playgrounds. Dinis ocean carousel is exported to various countries and is well received. We produce high quality ocean carousel. In addition to good materials, high quality and high safety factor, there are many lights, music and other decorations on the merry go round. We can also customize a part of the carrousel pattern for you. Dinis is a powerful manufacturer with decades of production and sale experience. So we will provide you with the best service and the best quality products. You can contact us anytime.