Nowadays, we can see many train rides in amusement parks or theme parks. These train rides are popular with tourists. Our company produces track trains and trackless train rides of various themes. Ocean themed track train for carnival is one of them. It has a fixed track, so you don't have to pay attention to where it is going. It is powered by batteries. Just charge it in time after each business close. Tourists of all ages love our ocean carnival train with track. You can run your business in theme parks, amusement parks and carnivals. Dinis is a powerful manufacturer. So you can rest assured to buy ocean track train for carnival from our company.
The Appearance of the Carnival Ocean-Themed Track Train
The appearance of Dinis ocean themed track train for carnival is characteristic. The locomotive of the train is a cartoon image of a dolphin and a mermaid. There are spray decorations on the outside of each cabin bottom and the front of the train. There are several swimming circle decorations above the waves. And there are also fish decorations on the top of each cabin, such as octopuses, clownfish, etc. These decorations are integrated with the train, without seams and splicing marks. Each cabin of ocean track train for carnival can accommodate 4 passengers. But if you want a large capacity ocean train, we can add extra cabins. We can also customize the length and shape of the train's tracks. We can customize the shape of the train track as Round, Ellipse, B-shaped, 8-shaped and so on. If you have other questions, you can contact us at any time.
Features of Dinis Ocean Themed Train With Track for Carnival
Working principle: Ocean themed track train for carnival runs on battery power. So it does not produce pollutants and is more environmentally friendly.

High-quality material: Its main material is high-quality steel, glass fiber reinforced plastic, etc. So this makes the train more durable and less prone to damage.

Applicable places: Carnival, theme park, amusement park, aquarium, etc. As long as the ground is flat and easy to lay the track.

Applicable people: It is suitable for tourists of all ages to experience. For the safety of children, children must be accompanied by their parents when riding.

Excellent after-sales service: The warranty period of our amusement rides is one year. But even after the warranty period, we will provide you with long-term technical support.
The Dinis Ocean Carnival-themed train has a real image and is very beautiful. So it is attractive for little kids and adults. Dinis is a regular manufacturer. The amusement rides we produce have low failure rate and are not easy to fade. And the equipment is meticulous in workmanship, safe and durable. Dinis welcomes your purchase.
Why Kids and Adults Love the Carnival Ocean Track Train?
For children, ocean carnival track train rides are attractive to them. On the one hand, bright colors and cute patterns will attract them first. On the other hand, children on track train rides will be excited to see the crowds around them. And the children on the train rides can communicate together. This way, children will not only make friends but also improve their social skills. For adults, experiencing the ocean themed track train for carnival can let them find the fun of childhood. Moreover, parent-child relationship can be enhanced in the process of experiencing with children. Our track train is also safe. It travels along a fixed track. Parents don't have to worry about their children getting hurt. Dinis can recommend suitable rail train rides for you according to your business place and budget. Believe that our carnival ocean train with track will satisfy you.
Where Can You Run Your Business?
Ocean themed track train for carnival is suitable for placement in aquariums, ocean theme parks, amusement parks, and carnivals. In aquariums and ocean theme parks, ocean-themed track trains are more in line with the environment there. In addition to admiring all kinds of marine life, tourists can also experience the ocean-themed train. Both children and adults will have more fun. In the amusement park, in addition to the ocean-themed trains, you can also buy some other themed trains. Tourists can come to rest. And you'll also earn more. Carnivals are very grand events. At that time there will be many rides and entertainment. Carnival ocean train with track is competitive. If you don't know what size or type of track to buy, you can contact us. We will recommend ocean carnival track train rides for you.
Advantages of Dinis
You can buy ocean themed track train for carnival at your local ride manufacturer or company. You can also choose to buy online. Dinis is your best choice.
First, Dinis is a manufacturer specializing in research, design, production and sale of amusement rides. We have decades of production and sale experience. The products we produce are sold to various regions at home and abroad, and are loved by customers and tourists. You buy carnival ocean themed train with track in our company. We will give you the best price and best service.
Second, our carnival ocean track train has bright colors and will not fade. Even when used outdoors for a long time, the colors are still vivid. Bright colors will attract visitors at a carnival or other event. Tourists will also have a better sense of experience.
Third, the production material of the ocean carnival track train is high-quality fiberglass. FRP is corrosion-resistant, high-temperature and low-temperature resistant, and waterproof. Even if it is exposed to the sun or rained outdoors, you don't have to worry about the train being damaged at all. The track of the ocean train is also made of galvanized steel. This material is both waterproof and corrosion-resistant. You don't have to worry about the track getting rusty.
Fourth, Dinis is the manufacturer. Compared with middlemen, the price of our rides will also be more reasonable. If you buy ocean track train for carnival from our company, we will give you the best price. You'll save some of your budget. We will also provide you with the best after-sales service and long-term technical support. You can buy our products with confidence.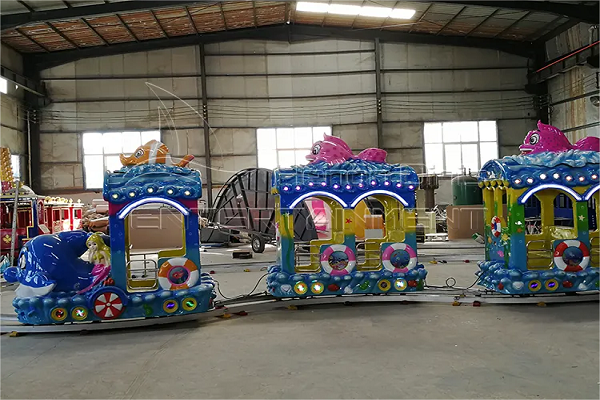 Ocean themed track train for carnival has been well received by customers. It has a cute and attractive appearance and is loved by kids and adults. You can buy this train from our company. Dinis will provide you with satisfactory prices and high-quality services. Detailed installation instructions will be sent to you. If you have any questions during use, you can contact us at any time. Welcome your consultation and cooperation.