When we go to amusement parks or shopping malls, we can always see outdoor train rides. Each manufacturer produce outdoor trains in different sizes, outdoor train and track or trackless train, outdoor train designed and produced for children, outdoor electric or diesel train, custom train ride. The most important thing for you is to choose an outdoor amusement park train manufacturer that satisfies you. Outdoor train ride for sale in Dinis is your better choice. Next we will introduce some trains we produce.
Two Different Sizes of Outdoor Train Ride for Sale
Small ride on outdoor train is generally used to enjoy the scenery and rest. Especially the ride on train around the lake or through the lotus pond. It avoids tourists walking for a long time and allows tourists to have enough time to rest. And you can enjoy the scenery while resting. Ride on trains are widely used in scenic spots, amusement parks, rice fields and other places where tourists can play. The function of mini outdoor electric train is also transportation. For example, if you take the train ride at the entrance of the scenic spot, you can get off the train near the amusement equipment you want to experience. This can save tourists a lot of time. Outdoor train ride for sale in Dinis can meet your individual needs. You can buy outdoor miniature trains for sale in our factory.
Large Outdoor Trains for Sale
Large outdoor trains have a large number of seats and are suitable for large amusement parks with a large number of tourists. There are 24 and 40 seats trains. According to the size of the playground, we will recommend you the suitable big outdoor train. If you run your business in a place with many tourists. You can buy large outdoor trains for sale in Dinis with more seats.
Outdoor Train Ride with Track and Trackless Train for Sale
The outdoor train with tracks we produce includes ocean trains, Christmas trains, elephant trains and so on. The cartoon animals on these trains are vivid and colorful. The quality of the train is reliable and the train price is reasonable. And the train is made of environmentally friendly materials: fiberglass, which are safe and non-toxic, acid and alkali resistant, anti-aging, and have the characteristics of high temperature and low temperature resistance. Typically, each cabin can carry 120 KG. These trains can accommodate four children or adults in each cabin. It is also possible if you wish to customize the number of seats. This outdoor train with track is suitable for scenic spots, parks, kindergartens, shopping malls, etc. We can customize the specifications of the train for you according to the size of the venue.
With the emergence of the trackless sightseeing train ride, more and more scenic spots have noticed it. And investors choose to buy a trackless sightseeing train. The reason is simple. Whether it is buying a sightseeing car or a sightseeing train, the ultimate goal is to carry passengers. Most sightseeing cars can only carry less than 10 tourists, and the carrying capacity is relatively limited. The trackless sightseeing train ride uses a box-shaped structure that can easily accommodate dozens of tourists. It generally has 2 to 3 train carriages, which is far more than the number of tourists transported by sightseeing cars. And each scenic spot has sightseeing cars. It is not very attractive to tourists, but the trackless sightseeing train is very novel to tourists. You can buy trackless sightseeing trains sold by Dinis, and the train rides we produce can meet your business needs.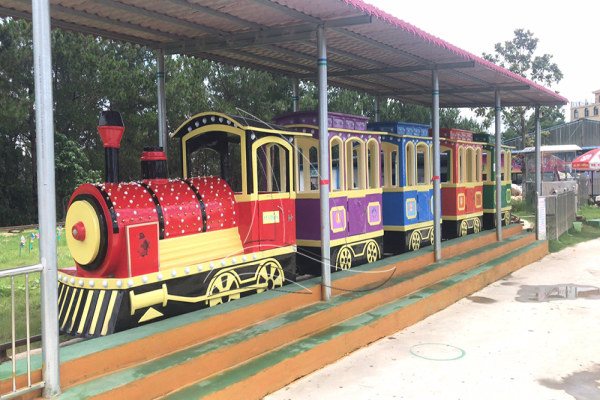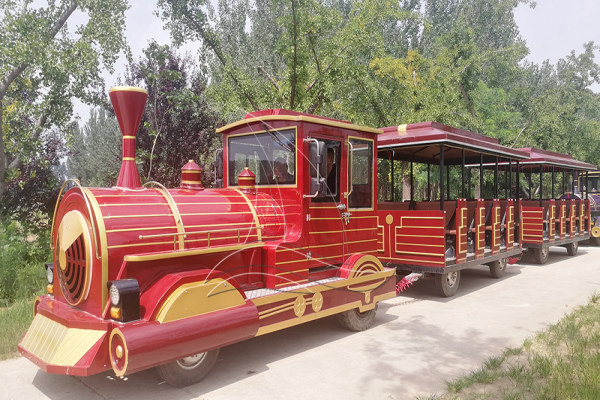 Outdoor Train Ride Designed for Kids for Sale
The outdoor kids train we produce is a train specially designed for children. The train is not only safe, but also has a variety of themes. For children, the first thing that attracts them is the appearance of the train ride, which is the theme of the train. Diversified themes can attract kids more. The first thing parents should consider is whether kids outdoor train rides are safe. For younger children who have no safety awareness, when taking a train ride, the most important thing is to ensure their safety. For this purpose, we have specially designed safe belts, which can be added to the outdoor train ride for sale in Dinis. If you want more safety for kids outdoor train, you can choose to add safe belts. We believe child size outdoor train for sale in Dinis is your best choice.
Do You Want to Purchase a Custom Outdoor Train?
There are many outdoor train rides. If you want to attract tourists, you need to buy some trains with different themes. When designing a themed train, we must choose an attractive theme. One of the most popular among tourists is the cartoon-themed outdoor train ride for sale in our factory. The outdoor train themed with cartoon characters attracts children and fans of these cartoon characters. From the perspective of children, animal-themed trains are also very popular. Taking the cartoon-themed and animal-themed outdoor train ride will make tourists have an unforgettable experience.
Where Can Outdoor Trains Run?
Outdoor train rides can operate not only in amusement parks and theme parks, but also in backyards and gardens. There are a lot of visitors in amusement parks and theme parks. These are suitable for you to run your business. But you can also buy trains for your backyard and garden. The backyard and garden are close to home and are the most convenient entertainment place for kids. You will earn more if you buy outdoor trains for your garden and backyard. Outdoor garden trains and outdoor trains for your backyard for sale in Dinis are suitable for your business.
The above is part of our outdoor train ride for sale. Trains in different sizes, tracked and trackless trains, trains designed for children, electric and diesel trains, custom trains. No matter what size train you want to buy or wherever you operate your train, we will meet your needs and customize it for you. Even if you want plastic outdoor train, we can produce it for you. Or trains running in gardens or backyards, we can also customize them for you. Dinis welcomes your purchase!