Electric trackless tourist train and diesel engine trackless tour train are two kinds of trackless train rides that are usually seen. The biggest difference between diesel trackless train for tourist and electric train is the driving method. It is usually used in tourist attractions, theme parks, zoos and other places. Tourists can rest on the train rides or enjoy the scenery along the way. We produce trackless tourist train with diesel engine with 24 seats and 40 seats. We can also customize diesel power tourist trackless train with larger capacity for you. The diesel train produced by Dinis has strong power and strong battery life. We can customize the train theme for you. The price of the train is also the factory price. If you are interested, please fill in your contact information. We will send you a quotation.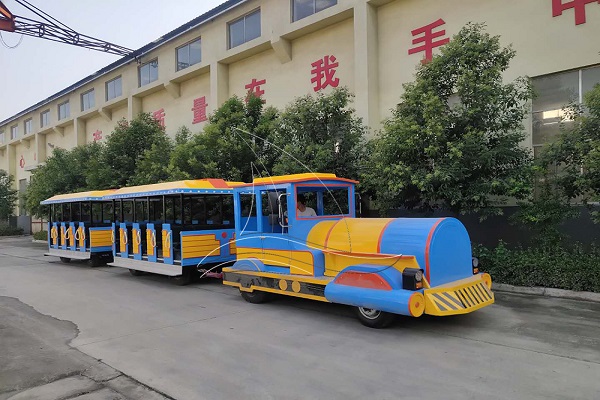 Popular Diesel Power Tour Trackless Train for Sale
24-Seat Trackless Diesel Sightseeing Train for Sale
The compartment size of the 24-seat diesel trackless touring train is 2.95*1.34*2.2m. The carriages of this trackless train can only accommodate more than 20 passengers. But its price is not as high as that of a 40-seater train. If the number of tourists in your business place is relatively small or your budget is not large, you can choose to buy this 24-seater diesel trackless tour train.
40-Seat Diesel Trackless Touring Train for Sale
The compartment size of the 40-seater trackless diesel sightseeing train is 4*1.8*2.5m. The train holds more passengers than the 24-seater. Therefore, its price is relatively higher. If your business place has more space or your budget is sufficient, you can buy this 40-seater diesel large trackless touring train.
The 24-seater and 40-seater diesel trackless train for tourist sold by our company are very popular. If you want a train with greater capacity, we can also customize it for you. We will provide you with trackless diesel touring train to your satisfaction. Welcome your purchase.
Advantages of Dinis Trackless Diesel Sightseeing Train
High and low temperature resistance: The power provided by the battery is unstable in low or high temperature environments. The battery of the battery powered trackless train is likely to run out of power in high temperature or low temperature weather. The diesel trackless tourist train can operate normally in low temperature or high temperature environment.

Strong power: the power of 24-seater and 40-seater diesel trackless touring train is 15kw and 75kw respectively, and the maximum speed is 25km/h. The diesel train with larger capacity has strong power. It can maintain a stable speed when the number of tourists accommodated is large. When encountering slopes, the trackless diesel train can also drive easily.

Strong endurance: Compared with trackless electric tourist train, diesel trackless touring train has stronger endurance. As long as enough fuel is equipped, the diesel train can travel for a longer time and distance.
Electric trains are easy to maintain, while diesel trains are more powerful. Both trackless electric and diesel touring trains have their own advantages. If your business site has a large number of tourists, you can choose Dins diesel trackless train for tourist with larger capacity.
Custom Themed Trackless Tourist Train With Diesel Engine for Sale
The trackless diesel sightseeing trains we produce have a variety of themes, such as elephants, giraffes, England and so on. These diesel trackless trains are all hot sale styles. Our customers and tourists all over the world love these styles. At Christmas, you can buy Christmas-themed trains. In children's parks, you can choose to buy animal-themed trains that children like. In large amusement parks, you can choose simple diesel trains. We can also customize diesel trackless sightseeing train with your favorite theme and style. For example, other animal-themed or landscape-themed diesel trackless trains that you want, we can design and produce them for you. Dinis diesel trackless train for tourist train can meet your every need.
Factory Price Diesel Engine Trackless Tour Train
You may ask "Where to buy a trackless diesel sightseeing train?" You need to buy the amusement equipment you need from the manufacturer. Dinis is a manufacturer integrating research, design, production and sale. We have rich experience in production and sale. The price of diesel trackless train for tourist that we produce is reasonable. We are a manufacturer. Therefore, the prices of the amusement facilities we produce are all factory direct sale prices. In addition to manufacturers, some middlemen are also selling trackless diesel tour trains. But the price of the rides they sell is relatively high. Dinis is your best choice. If you buy trackless diesel sightseeing trains and other amusement rides like chain swing ride from our factory, we will give you the best price. In addition, we will provide you with the best after-sales service. You can buy with confidence.
How to Get a Quotation for Diesel Trackless Sightseeing Train?
First, you can fill in your contact information and your requirements for diesel trackless train for tourist.
Then, we will contact you according to the contact information you filled in.
Finally, after confirming the capacity of the diesel train you need and other information, we will give you a quotation. The prices of trackless diesel sightseeing trains with different capacities are different.
We believe that under the premise of the same quality, the quotation we give you is the most favorable. When you buy trackless diesel tour train, you should choose a manufacturer with rich production experience. Dinis is a strong company. We are experienced in production and export. We produce all kinds of amusement rides like bumper cars, which are very popular among tourists. Welcome your inquiry and purchase.
Overall, diesel trackless train for tourists is a very popular ride. It is both beautiful and passenger-carrying. People don't have to hike to the next ride or rest when they're tired. We have trackless tourist train with diesel engine with different capacities. Even if the number of passengers is large, its power is still very strong. If you like unique patterns or themes, we can also customize diesel power tourist trackless train for you. Its price is reasonable, you can buy it with confidence. We will give you the best price to save your budget. Dinis looks forward to cooperating with you.