Ground net bumper car is a kind of grid bumper car. It is suitable for use in amusement parks, theme parks, shopping malls, and carnivals. Visitors can control the speed and direction of the dodgem car using a joystick or a steering wheel. Ground grid bumper cars are suitable for people of all ages. The floor grid dodgem cars produced by Dinis have many advantages. We sell floor net bumper cars for various groups of people like ground net dodgem cars for kids. We can customize the ground grid dashing car you want for you. You can run your business in playgrounds, parks, children's playgrounds and other places. So you can contact us if you want to purchase Ground net bumper car for sale in our factory. Welcome your consultation and purchase.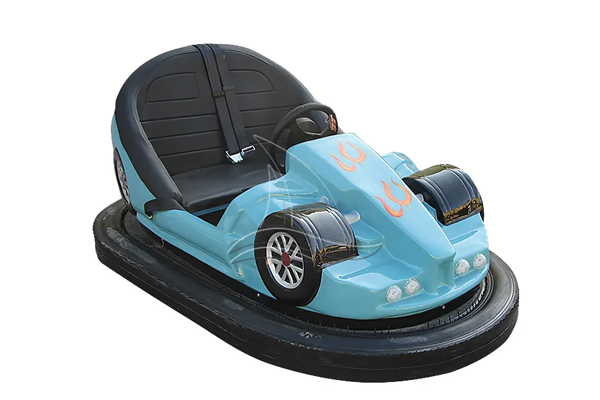 How the Ground Grid Dodgem Car Works
The body part of the ground net bumper car is composed of chassis, frame, wheels, and other components. The power of the ground grid dodgem car comes from the floor, which is the ground grid. A ground grid is formed by arranging several conductive strips on a sufficiently large insulating plate. The body of the floor net bumper car touches the floor and is connected to a power source so that it can operate. When two bumper cars collide together, the power will be cut off automatically to protect the safety of tourists. Automatically restores power when the pedal is released. Ground net bumper car for sale in Dinis is stable and safe. So many customers have given us feedback after receiving our dashing cars. Customers at home and abroad like our floor grid bumper car very much. So you do not have to worry about it running unsafely.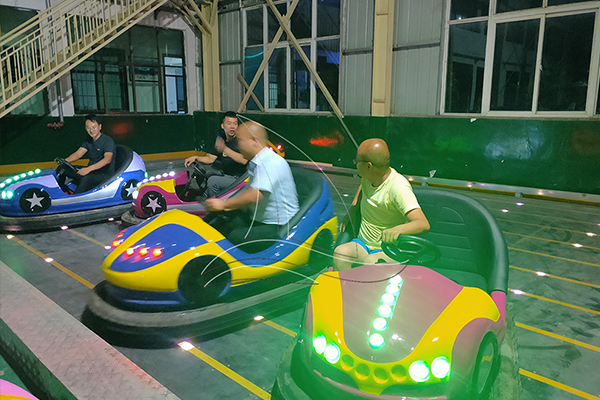 Advantages of Dinis Ground Grid Dashing Car
First, the body is made of fiberglass. FRP products all adopt the technology of automobile baking paint. Therefore, the color of the bumper car is bright and not easy to fade. So the fiberglass material makes the dashing cars durable. Even if the body has obvious scratches, you don't need to worry. We give you grinding tools as a gift, after grinding, there will be no color difference. So the body is as bright as new.
Second, the daily maintenance of ground net bumper car for sale in Dinis is simple. Only need to install a ground grid, floor grid dodgem car can run. Slight wear of the wheels will not hinder the running of the dashing car. It runs stably and does not require frequent maintenance in the later period. It costs less to invest and you will earn more.
Third, the equipment we produce has a power-off protection device to effectively protect the lines and motors. It is meticulous in workmanship, safe and reliable.
Fourth, the car has many colors and colorful LED lights. Our ground grid dodgem cars are available in red, pink, orange and green lights. So the LED lights on the body will be cooler at night. More tourists will come to experience it.
Kids Floor Net Eelectric Bumper Car for Sale
Kids ground net bumper car for sale in Dinis comes in a wide variety of themes. Specially made for kids, this kids floor grid dashing car is more attractive for little ones. Ocean theme, animal theme, car theme are favorite for little kids. It generally has two seats. During the operation, ground net bumper car improves children's coordination and balance. When children experience together, they interact with each other, which promotes their social skills. The kids ground grid bumper car has undergone multiple safety tests to ensure the safety of kids. So if you want to built a children's bumper car area, you can choose to buy bumper cars produced by Dinis. We will provide you with installation instructions and good after-sales service.
Customized Ground Net Bumper Car for Sale
If you do not want to buy a normal floor net dodgem car, we can help you customize dashing cars. So you just need to tell us your needs. What style or theme of bumper cars do you want? And what size do you want? What color and pattern do you want? What function do you want it to have? If your business place is large, you can customize large-sized ground grid bumper cars. If you want to add harnesses to your car, we can also add them for you. Dinis is a manufacturer specializing in research, design, production and sale of amusement rides. So ground net bumper car for sale in our factory has high safety factor, you can buy with confidence. We will do our best to meet your needs and provide you with a floor grid dashing car that meets your needs.
Where Can You Run Your Business?
Amusement parks and theme parks: Amusement parks and theme parks have a variety of rides that include bumper cars. So they are ideal places to run a ground grid dashing car.
Children's playgrounds: Children's playgrounds usually have more rides designed for children. So kids and parents here love our kids ground net bumper car.

Parks and squares: Parks and squares are places for people to relax and entertain, and they are also another business place for floor net dashing cars.

Shopping centers: Commercial blocks and shopping centers are places where people shop and consume. So ground grid bumper car can be used as one of the recreational facilities to attract more consumers. It is worth considering that the business place has a larger area. So you need to consider the rental cost of running the place and the cost of buying the bumper cars.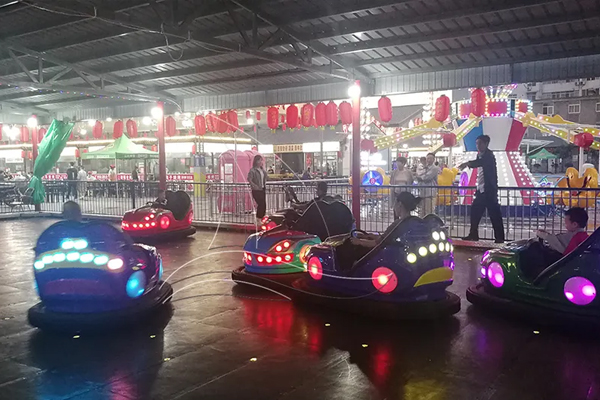 These places often have various celebrations and parties. So the floor grid dodgem car can be used as one of the recreational activities. Dinis can provide you dashing car with high quality and reasonable price. You can buy the ground grid bumper car you want according to your budget.
Ground grid dodgem car is a necessary amusement item in various scenic spots and playgrounds. But there is no age limit, everyone can experience it. Ground net bumper car for sale in our factory has many advantages. You can buy the bumper cars of the styles in the pictures and videos we provide you, or you can buy the styles you want. We can help you customize floor grid dashing car. We will try our best to meet your special needs.